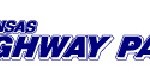 Update as of noon Thursday:
More details were released just before noon Thursday regarding a fatal accident involving a law enforcement pursuit, KMAN news first told you about early in the morning.
A news release from the Kansas Highway patrol indicates On Wednesday at approximately 10:30 p.m., a trooper observed a vehicle travelling the wrong direction on I-70 near Grandview Plaza. The trooper attempted to stop the vehicle, and a chase ensued.
During the pursuit, a GMC utility vehicle with three occupants steered away from the fleeing vehicle, resulting in them entering a south ditch. The GMC rolled and came to rest on an access road south of I-70.
The Dickinson County Sheriff's Department assisted the Patrol by shutting down I-70 eastbound at the Abilene exit. As the fleeing vehicle approached the area near the Chapman exit, it slowed, and the driver, identified as Fort Riley soldier Gary Nelson, 22,  drove into the median and stopped.
The driver surrendered to law enforcement and was taken into custody without incident. Troopers returned to the crash scene of the GMC that had been forced from the roadway, to assist emergency medical personnel who had been dispatched to the scene.
All occupants were transported to Geary Community Hospital to be treated for their injuries. One occupant, idenfitifed earlier as Jake Black, 53, of Manhattan,  sustained fatal injuries as a result of the crash.
The KHP Critical Highway Accident Response Team (C.H.A.R.T.) was activated to investigate the crash.
Nelson  was transported to the Geary County Jail, with pending charges from the Geary County Attorney's Office.
###
(earlier reports)
A suspect involved in a law enforcement pursuit Wednesday night that led to a fatal accident has apparently been arrested.  Gary Nelson, 22, of Junction City shows up on Geary County's arrest report Thursday morning, with possible charges listed as vehicular homicide, fleeing and eluding law enforcement officials, and five or more moving violations, reckless driving, and speeding.
As KMAN news told you earlier Thursday morning, Jake Black, 53, of Manhattan died in the accident, which occurred on eastbound I-70, a half mile west of Chestnut. According to the Kansas Highway Patrol, Black was an occupant in a vehicle driven by Steven Green, 53, of Manhattan. Green was trying to avoid the pursuit, which was traveling westbound in the eastbound lanes.
The accident  occurred on eastbound I-70, a half mile west of Chestnut at about 10:30 Wednesday night.
KHP indicates it all began with a 2013 Chrysler 200 driven by Nelson westbound in the eastbound lanes on I-70, being pursued by law enforcement. Green, who was driving a 2002 GMC Envoy, made an evasive move, left the roadway and rolled, with the vehicle coming to a rest on its top.
Green and another passenger in the vehicle, Evon Obannon, 51, of Manhattan were taken to Geary Community hospital, although are no longer listed as patients there.