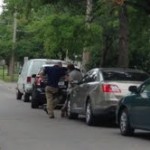 A 56-year-old Manhattan man arrested last week on methamphetamine related charges has been identified by U-S Attorney Barry Grissom's office as one of 15 defendants in a federal drug trafficking investigation.
Robert Lovgren is charged with one count of conspiracy to distribute meth and three counts of using a phone in furtherance of drug trafficking.
As KMAN news told you last week, Lovgren was taken into custody by Riley County police and a federal official last Tuesday evening at about 5:30. He was arrested in the 1300 block of North 11th street.
The 14 others arrested were from Emporia, Topeka, Dodge City, Kansas City, and Grand Island, Nebraska.
Federal prosecutors unsealed the indictments Monday alleging the defendants were part of a conspiracy to distribute meth in the Topeka area.
The conspiracy charge could carry a penalty of not less than 10 years in federal prison and not more than life, with a fine of up to $10 million. The phone use charge involves a maxiumum penalty of four years and fine of up to $250,000 on each count.