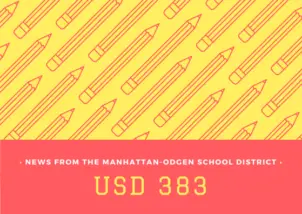 Manhattan-Ogden USD 383 announced Monday the district and Manhattan-Ogden NEA reached a tentative agreement Friday, July 7, 2017.  The teams have been meeting for five months to discuss the contract for the 2017-2018 school year.
Highlights of the new contract include:
3.88% total compensation package increase
Increase of $1,000.00 on the base salary (starting salary for a teacher will be $38,000)
Allowed steps and movement on salary schedule
Continued coverage of the health insurance premium
Extended due process language procedure for teachers
Continued contract language to support dual credit classes with MATC
Review of equity through extending teaching overload language to include all levels
Improved the supplemental base salary for teacher leadership, athletic, and activities
Approved an additional leave option for employees with defined longevity
"The Association and Board negotiating teams worked jointly through multiple issues while arriving at a tentative agreement that will be good for the district, the students, and the teachers," said Eric Reid, Assistant Superintendent.  "The level of teamwork and problem solving demonstrated by the Association and Board was impressive.  We were able to reach consensus on multiple issues that will benefit all parties.  I truly appreciate the Association representatives for their efforts to look at the district as a whole, and I am thankful we had better financial options to consider than in recent years."
"Once again the board of education and teachers association have worked collaboratively to achieve a contract both sides can be proud of, while keeping the needs of our students in mind," said Laurie Slaughter, president of the Manhattan-Ogden NEA and member of the negotiations team.
The Board of Education will vote on ratification of the tentative agreement following a ratification vote by teachers.