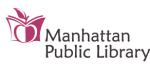 The Manhattan public library is offering four special events Saturdays in July for both kids and teenagers.
"We have lots of activities during the week, but for kids and parents who are not available during the week, we added some special programs on Saturdays", said Jenifer Adams, manager of the children's department.
On July 13th at 10:00, kids and teens are invited to a Yu-Gi-Oh tournament. Open to players of all ability levels, this Japanese Manga card game has been a huge hit with gaming enthusiasts. Players are asked to bring their own decks. If you do not have cards, extras are usually available.
July 13th at 2:00PM, kids in kindergarten through sixth grade can be paleontologists for a day at the library's paleontology party. Kids can create their own dinosaurs, run dino egg races, and and play dinosaur bingo.
On July 20, also at 2:00PM, The Clement McCrae Puppet Show titled Puppets, can you dig it, will have their final performance of the summer. Kids will learn that discovery is as close as their imagination.
Finally,  July 27th from 5:30Pm to 9:00PM is the end of summer bash for teens in 7th to 12th grade. The library encourages teens to celebrate their achievements, play games, and spend some quality time being loud at the library.
July 31st will be the last day to pick up summer reading prizes, so make sure to log your reading time, and come to the library before the end of July.
For more information, call 785-776-4741. You can also find the Manhattan public library on facebook, pinerest, twitter, and foursquare.