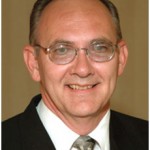 City Manager Ron Fehr announced Monday that Public Works Director Dale Houdeshell will be leaving his position with the City of Manhattan to become the Director of Public Works for the City of Clayton, Missouri.  Houdeshell will continue in his current capacity with the City of Manhattan through January 31, 2014.
"I want to thank Dale for the service he has provided to the City of Manhattan as Director of Public Works," Fehr said.  "Dale's experience in a period of major expansion of community infrastructure during his tenure is appreciated, and we wish him and his spouse, Judy, well in their new position and in being closer to their family."
Houdeshell stated, "It is with mixed emotions that I am leaving the City of Manhattan.  I have enjoyed the opportunity to serve the citizens of Manhattan.  Over the past couple of years, our family has experienced several significant events, and these events have resulted in our desire to be closer to our family in the St. Louis area."
Houdeshell started his tenure with the City of Manhattan as Director of Public Works in May 2007.  He was responsible for the operations, budget and personnel within the City of Manhattan Department of Public Works, which includes the divisions of Administration, Engineering, Operations Streets and Fleet, and Utilities Water and Wastewater.  During his tenure, Houdeshell played a significant role in the expansion of the Water Treatment and Wastewater Treatment facilities, the construction of the Traffic Operations Center, McCall Road, 3rd Street openings, Downtown Redevelopment infrastructure, and the National Bio and Agro-Defense Facility (NBAF) utility relocations.  He also played a key role in negotiating agreements for the Konza Water Extension, the Blue Township Sewer Connection, and the Blue Township Water Extension.
A search to fill the Director of Public Works position will commence in January 2014.
(news release- courtesy of City Manager, Ron Fehr)