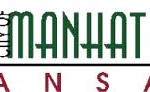 Sales tax revenues for Manhattan are up for the first time in a while, with the April report released by Manhattan Finance Director Bernie Hayen.
$779,560 was collected, with an adjusted rate of about $718,523 , or $2,137 up from the year before. The city's budget had called for $715,368.
Information from state Treasurer Ron Estes' office indicates
The total for April 2013 is $1,974,794.95, with the compensating use tax amounting to $99,017.48. The transportation development district tax amounts to $38,284.99, resulting in a grand total of $1,322,097.42.
Hayen indicates as in the past three months local retailers were both up and down, with grocery sales remaining strong. Automobile sales were also strong this reporting period. However, big box stores and mall retailers were mixed in terms of their retail sales.
A reminder: April numbers actually reflect two months prior which is February.