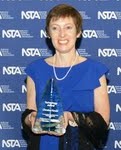 A Manhattan teacher has been recognized by the National Science Teachers Association (NSTA), described as the largest professional organization in the world promoting excellence and innovation in science teaching and learning.
The recipients of the group's 2013 Teacher Awards Program, which honors K12 teachers, professors, principals, and other educators for their outstanding achievement and innovative programs in science education includes Christine Herald, a science teacher at Eisenhower Middle School in Manhattan.
Herald was awarded the Vernier Software & Technology Award, middle level. The award recognizes and rewards the innovative use of data collection technology using a computer, graphing calculator, or other handheld in the science classroom. A total of seven awards were presented this year.
Herald received her award at a special banquet and 61st National Conference on Science Education in San Antonio, Texas.