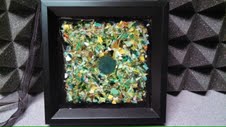 Originally starting off as a family hobby, Tony Nichols, US Army Veteran and Manhattan resident, has turned the creation of artwork into a job.
Being introduced to the process of using a resin by a friend, Nichols takes shards of glass to create commissioned pieces in designs or abstract ones.
Nichols mentioned one of the places he lived actually helped push him towards the creations as he tried to bring color to his family's surroundings.
"In the Army, you move a lot and sometimes you don't have the best housing available to you," said Nichols.  "In Columbia, South Carolina, we had a terrible rental house.  It was just a slab house and it didn't have blinds or window treatments, so I found some old windows and decided that I was going to try to make my own stained glass.  After several attempts, a friend of mine told me about the resin, which is basically liquid plastic.  So, I began setting originally the beads, those dragon tears, and I made decorations for my own house."
Though being time consuming, as Nichols mentioned he does in fact treat this as a full time job, working while his kids are at school and then back to it after they go to bed,  having this to focus on has helped when dealing with his time overseas.
"It started out as a hobby when I was still in the army," Nichols said. "I retired in June. We would do art shows as a family to make some extra money and to have some fun, have a hobby.  After a couple of deployments, I found that it was a place to go to kind of relax and stop thinking about some of the deployments and the experiences I've had."
To find out more about Nichols and his work, you can check out his Facebook page at Kickin' Glass Kansas.