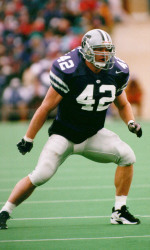 By Kenny Lannou
KStateSports.com
(Original Story)
MANHATTAN, Kan. – Former K-State Consensus All-American Mark Simoneau will become just the second Wildcat football player and first under head coach Bill Snyder to earn college football's most prestigious honor as the former linebacker was announced today as part of the National Football Foundation's College Football Hall of Fame Induction Class of 2012.
The Class of 2012 is comprised of 14 players and three coaches and includes standouts Ty Detmer (BYU), Dave Casper (Notre Dame), Art Monk (Syracuse) and Coach Jimmy Johnson (Oklahoma State/Miami).
"This is truly an unbelievable honor for me, my family, the town of Smith Center and all of the K-State Nation," said Simoneau. "I want to thank Coaches Barta and Snyder and all of the coaching staffs over the years for instilling in each of us the resolve to be successful not only as football players but also as young men. There are so many friends and teammates that were influential in my development and more importantly the success of our teams during my time at K-State. Representing those teams from the 1990s that put K-State Football in the national spotlight and also being the first player under Coach Snyder to be elected to the Hall of Fame is truly humbling. As a small town kid from Smith Center, Kansas, I never could have dreamed of such an honor, but it shows that with hard work and a dream, anything is possible."
Simoneau joins fellow linebacker Gary Spani (Class of 2002) as the two Wildcat players to enter the Hall of Fame, while coaches Pappy Waldorf (Class of 1966) and Charles Bachman (Class of 1978) have also been enshrined.
"Mark is a tremendous young man with a wonderful family and I am extremely proud of him," said Snyder. "He had a long career in the NFL because he maintained the intrinsic values of commitment, unselfishness, hard work, mental toughness, persistence, responsibility and integrity. He has been the consummate team player throughout his life, and this is truly a well-deserved honor."
Simoneau, who lettered for the Wildcats from 1996-1999, was a Consensus All-American and the Big 12 Defensive Player of the Year in 1999 en route to being the runner-up for the Butkus Award that same season.
A K-State Ring of Honor inductee and a four-year starter for Snyder, Simoneau led the Wildcats to a 42-7 record during his career while totaling 400 career tackles and a school-record 251 unassisted stops. K-State also collected a 28-4 Big 12 record during Simoneau's career, won two Big 12 North titles and appeared in four straight bowl games.
A three-time Butkus Award candidate and 1999 Senior Bowl participant, Simoneau was a third-round selection in the 2000 NFL Draft by Atlanta and played a total of 11 seasons in the NFL with stops in Atlanta, Philadelphia, New Orleans and Kansas City.
Including the 2012 FBS class, only 914 players and 197 coaches have been inducted into the College Football Hall of Fame from the nearly 4.86 million who have played or coached the game over the past 143 years. In other words, only two one-hundredths of one percent (.0002) of the individuals who have played the game have been deemed worthy of this distinction.
Founded in 1947, The National Football Foundation and College Hall of Fame inducted its first class of inductees in 1951. The first class included 32 players and 19 coaches, including Illinois' Red Grange, Notre Dame's Knute Rockne, Amos Alonzo Stagg and Carlisle's Jim Thorpe.
"The National Football Foundation and College Football Hall of Fame are true guardians of the game and we value their commitment to education and intercollegiate athletics. For Mark Simoneau to be recognized in this fashion is a validation not just of his efforts but also of Coach Snyder's special place in college football history as well as a tribute to the passion and values of the entire state of Kansas," said Athletics Director John Currie. "I also appreciate the work of Max Urick, Casey Scott, Kenny Lannou, Reid Sigmon and many others in jump-starting our efforts to build national recognition for the accomplishments of K-State student-athletes like Mark."
Induction for the 2012 class of Hall of Famers will take place December 4, 2012, at the 55th NFF Annual Awards Dinner in New York City's historic Waldorf-Astoria.
College Football Hall of Fame Class of 2012
• Charles Alexander (LSU)
• Otis Armstrong (Purdue)
• Steve Bartkowski (Cal)
• Hal Bedsole (Southern California)
• Dave Casper (Notre Dame)
• Ty Detmer (BYU)
• Tommy Kramer (Rice)
• Art Monk (Syracuse)
• Greg Myers (Colorado State)
• Jonathan Ogden (UCLA)
• Gabe Rivera (Texas Tech)
• Mark Simoneau (K-State)
• Scott Thomas (Air Force)
• John Wooten (Colorado)
• Phillip Fulmer (Tennessee)
• Jimmy Johnson (Oklahoma State/Miami)
• R.C. Slocum (Texas A&M)
Mark Simoneau
Individual National Honors:
• 1999 Consensus All-American
• 1999 First Team All-American by six different outlets/publications
• 1999 Butkus Award Runner-Up
• Three-time Butkus Award candidate
• 1998 Second Team All-American
• 1999 Senior Bowl participant
Individual Conference Honors:
• 1996 Big 12 Defensive Freshman of the Year
• 1997 First Team All-Big 12
• 1998 First Team All-Big 12
• 1999 Big 12 Defensive Player of the Year
• 1999 First Team All-Big 12
• Four-time Big 12 Player of the Week
Individual School Honors:
• One of 12 players in school history elected to K-State's Ring of Honor for football
• Led K-State to a 42-7 overall record and 28-4 Big 12 mark in four years, which included three 11-win seasons
• Helped K-State achieve the "greatest turnaround in college football history"
• Led the Wildcats to two Big 12 North titles and four straight bowl appearances
• Holds the school record for career unassisted tackles with 251
• Ranks third in school history in total tackles with 400
• Ranks third in school history in career tackles for loss with 52
• Ranks third in school history in career forced fumbles with 8
• Played high school football at legendary Smith Center (Kan.) High School for Roger Barta
• The school and town 15 miles from the center of the U.S. was the centerpiece of the book, Our Boys