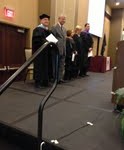 About 1,200 students walked across the stage to receive their certificates and diplomas during Manhattan Area Technical College's commencement exercises Friday. College President Rob Edleston tells KMAN several family members and friends attended the event, held at the Hilton Garden Inn, with 1,400 chairs filled.
 Featured speaker, Dr. Andy Tompkins,  President and CEO of the Kansas Board of Regents, challenged the graduates to find a way to give of themselves. He also shared five suggestions with the graduates, including to treat other people the way you want to be treated, to value the importance of human relationships above all else, to pursue work you enjoy, have courage and be willing to take risks and welcome change, and concluded with "you are in charge of you."
 In addition to commencement for the 1,200, pinning ceremonies were held for nursing and dental hygiene graduates of Manhattan Area Technical college Friday. Edleston adds the rites of passage are really important.
Edleston adds the college continues to grow with new programs added all the time.  Some of the newer areas include dental hygiene, med lab techs, and the first advanced bio-tech graduate .