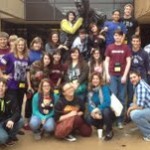 The Manhattan High School Thespian Troupe #941 had several honors at the State Thespian Conference in Wichita last weekend.
Sponsor Linda Uthoff tells KMAN The Competitive Improvisation team placed Fourth in the state and the Technical Theatre Team placed second in Taping a Ground plan;
Ethan Schmidt and Macy Lanceta represented Manhattan as State Board Members onstage at Century II, and Macy Lanceta was selected as one of 21 performers out of 150 entries to go on to International Thespian Festival next June in Acting.
Manhattan Thespians were awarded the GOLD HONOR TROUPE AWARD, the highest category possible for their community service, show schedule, fundraising and touring shows, based on a presentation by Historian Levi Jones.