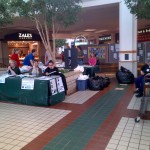 Manhattan Town Center Mall played host to an all day Martin Luther King Jr. holiday celebration on Monday.  Various local organizations and committees set up tables to educate the public about their efforts.
Artwork as well as writing entries, from the MLK Jr. Writing and Art Contest, was displayed on a long gray board.  Elementary age -high school age children participated in the contest.  Many local schools had their students submit entries.  Winners were awarded during the celebration.
Groups sang, danced, and did poem readings for the occasion.
Two awards were presented during the event.  The "Spirit of Martin Luther King Community Service" awards were awarded to Larry Hackney, and Reverend L.E. and Queen E. Madison.
Hackney has worked for the City of Manhattan Human Resources Department for sixteen years.  He has been a part of the MLK Committee for over ten years and has served as chair several times.
Reverend LE. Madison pastored at the Pilgrim Baptist Church from 1963-1977.  His wife Queen E. Madison was a civic leader and human rights activist.  Neither are alive, but one of their three sons attended the event to accept his parents' award.