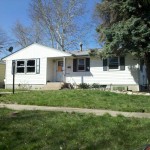 Early Friday morning, a single family residential structure at 919 Mission Ave was reported to be on fire .
The Manhattan Fire Department dispatched crews and upon arrival found the one story building ablaze from the back of the structure.
According to Battalion Chief Rex Worden, the department was able to get the fire out by about 5:45 am. But, at about 6:30 am, the fire rekindled itself. Crews reappeared on the scene and again extinguished the fire.
The occupants of the building were able to evacuate safely. The estimated loss is about $75,000 to contents and $80,000 to the structure.
The cause of the fire is still under investigation.