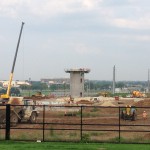 Despite being chosen as the official site in 2009, the future National Bio and Agro Defense Facility has many people confused about what kind of research the facility will focus on.
"The design of the facility is to work on livestock exclusively," Kansas State University Vice President for Research Ron Trewyn said.
According to Trewyn, NBAF will develop new diagnostics to detect diseases quicker and develop vaccines and other treatments in case any of these foreign diseases get into the country.
"With the movement of people and goods we need the treatments in place so we can protect our agricultural infrastructure," Trewyn said.
The NBAF project has been split into three phases since Manhattan was chosen as the site. The first two phases included site work and the central utility plant and the final phase was for the lab.
Trewyn says the project is estimated to create nearly 1,000 to 1,500 construction jobs over the next 5 to 6 years. Once the facility is open, it will look to hire nearly 350 federal workers and researchers.