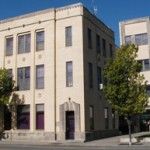 Courthouse Plaza East, in downtown Manhattan, is where the Riley County Commission meets every Monday and Thursday.  The building is also utilized by various departments, but the third floor currently has vacant space.
This was a topic of discussion during Monday's meeting, as Public Works Director, Leon Hobson led the discussion.  A possibility for at least a portion of the space would be a break room.
A small crowd of county employees were present at the meeting to show their support for this idea.
The commission came to a consensus to move forward with this.
—————–
Three bids were submitted to Riley County Commissioners for the multi-layer polymer concrete overlays for four county bridges.
Wildcat Concrete Services out of Topeka submitted the first bid of $113,666.  Bridges Incorporated out of Newton, submitted a bid of $134,450.  The third bid was sent in from PCiRoads out of St. Michael, Minnesota, for $168,641.50.
The engineer's estimate for this project was $171,660.
All three bids were approved for staff evaluation and recommendation.