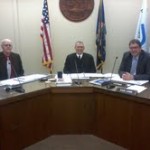 Proposed new flood maps will reflect changes to local flood risks.  The Federal Emergency Management Agency released the new proposed flood maps recently.
Planning and Development Director, Monty Wedel shared details about upcoming informational meetings, during Monday's Riley County Commission meeting.  These meetings will be conducted in order to inform the public about the new flood plain maps, and answer any questions regarding flood risks, insurance, etc.
The first meeting will be September 12th from 4-7 p.m. at the Manhattan Fire Department headquarters, and the second will be September 27th from 4-7 p.m. at the Manhattan City Commission Room.
————-
Poyntz Avenue has been under construction since early this summer, and Executive Director of Downtown Manhattan, Gina Scroggs said the project is "over halfway complete".
During her update, she shared a story about the progress and how emotional it made her feel when 4th street was opened up Thursday August 30th.  She mentioned she stood at the corner and tears began to fall, as she remembered the 37 commission meetings, and five years of work that has gone into this project.
————-
County Counselor, Clancy Holeman presented a temporary and limited real property license for a Flint Hills group to utilize a room in the health department for a short period of time.  The license was quickly approved by the commission.