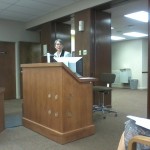 Riley County Commission Chair, Dave Lewis officially introduced Brenda Nichols as the new County Health Department Director during Monday's commission meeting. That was Nichols' first day on the job, and she said the staff has gave her a very warm welcome.
Although she is new to the area, she was aware that Riley County currently ranks 2nd, out of all the counties in Kansas, for health and safety. "This really speaks to the commitment that not only leadership has in the city and the county, but the leadership in the various organizations in assuring there is health and safety", Nichols commented.
———-
Monday's meeting also featured the USD 378 special bond issue special election canvass.
This canvass did not take long, as there was not a high number of ballots needing to be counted. Recommendations were made by the county elections staff, and the commission approved those requests.
———-
A regulation amendment for major/minor traffic ways to the Riley County Zoning and Subdivision regulations was presented to the commission by County Planner, Bob Isaac.
After a short explanation, the commission approved the amendment.
———-
The meeting's press conference featured County Historical Museum Director, Cheryl Collins, who shared some upcoming events, and County EMS Director, Larry Couchman, who mentioned the crew is beginning preparations for the country stampede. Couchman advised attendees to stay hydrated, frequently use sunblock of a SPF 30 or higher, and wear clothing.