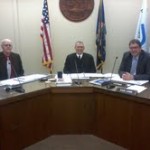 Riley County Health Department Director, Brenda Nickel presented two proposals during Thursday's county commission meeting involving department positions.
The first was a request to increase the current Public Health Emergency Response Coordinator position from part time to a full time position.  Jason Orr is currently in the position and works from around 30 to a maximum of 40 hours every week.
The commission unanimously approved this request.
As far as the second request, this required a little more juggling and strategizing.  Nickel proposed to replace the currently vacant office manager position with a new nursing supervisor job.
As of mid-March, the office manager spot has been vacant, as Paula Peterson accepted a job in Abilene.  With Peterson's absence, Nursing Supervisor, Linda Redding has been taking on the extra work load.
The proposed new nursing supervisor would be in charge of all clinic nurses and medical nurses, as well as a few other added responsibilities.  Nickel mentioned the position would be covered by grant money.
This item was also approved unanimously by the commission.