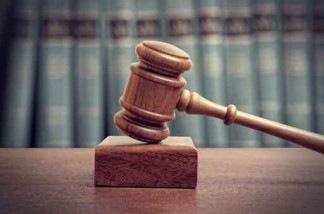 The 21st Judicial District Nominating Commission is seeking candidates to fill a district magistrate judge vacancy residing in Riley County.
The 21st judicial district includes Clay and Riley counties.
Justice Marla J. Luckert, the Kansas Supreme Court departmental justice responsible for the 21st judicial district, said candidates can apply or be recommended, but recommendations must come on a nomination form and include the candidate's signature.
Kansas law requires that a magistrate judge must be:
a high school graduate or its equivalent;
a resident of the county at the time of swearing in and at all times while holding office; and
either be a lawyer admitted to practice law in Kansas or pass an examination given by the Supreme Court and become certified within 18 months.
Recommendations must be accompanied by a nomination form available from the clerk of the Riley County District Court, the clerk of the Clay County District Court, the clerk of the appellate courts at the Kansas Judicial Center in Topeka, or on the Kansas judicial branch website at www.kscourts.org  under What's New.
One original and nine copies of the completed nomination form and supporting letters must be received by noon July 31, 2017, to:
William J. Bahr
Commission Secretary
801 Poyntz Avenue
Manhattan, KS  66502
The nominating commission will convene at 9 a.m. Monday, August 14, 2017, in the Riley County Courthouse, 100 Courthouse Plaza, Manhattan, to interview candidates. Interviews are open to the public. When the interviews conclude, the commission will select one candidate to fill the district magistrate judge position.
The 21st Judicial District Nominating Commission consists of Justice Marla J. Luckert as the nonvoting chair; lawyer members William J. Bahr, James W. Morrison, Derrick L. Roberson, and Richard H. Seaton Jr. of Manhattan; and nonlawyer members Steven L. Hargrave of Randolph, Johanna D. Lyle of Manhattan, and Kyle C. Bauer and Steven C. McMahan of Clay Center.