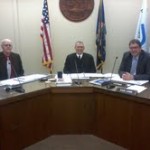 As of January 1st, new procedures and a new system for Commercial Vehicles will be utilized.  Vehicles must have a US DOT #, which can be found online at truckingks.org.  Currently there is no cost for this service.
During Monday's Riley County Commission meeting, County Treasurer, Eileen King mentioned this will not impact farm vehicles, as the new system is only for Intrastate Commercial vehicles.  These vehicles will now be issued a purple on white "commercial" plate.
Instead of having vehicle charges based off of the appropriate county's mill levy, this requires commercial vehicles to all be under the "commercial vehicle registration fee".
Some vehicles are exempt from the changes:  buses, hearses, funeral coaches, funeral cars, and ambulances.
King said registration fees and commercial vehicle fees were due January 1st, and are delinquent on March 1st of each year.  These fees are the same in all 73 participating Kansas counties.
————————
During the public comment portion of the meeting, two radio vendors expressed concerns with the previous bid opening for Emergency Management bids.  There appeared to be some confusion in the specifications for the bids.
The commission chose to schedule this topic as a agenda item for Thursday's meeting.