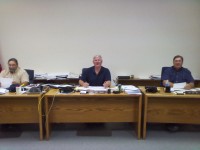 Before the were able to switch around their roles, the Pottawatomie County Commission had some work to take care of during Monday's meeting.
First up they heard an update on how weather has been impacting the public works department and how they're preparing for upcoming storms.
Bob Cole, Economic Development Director, brought his year-end report on how they have progressed on their fund raising efforts.  A more in-depth discussion is going to take place Tuesday night in Wamego.
The commission was asked to switch hats, before given the health department update.
Leslie Campbell, Health Director, requested they make appointments as the Official Board of Health for the county.
They appointment Campbell as the local health officer and they appointed Tom Walsh, MD with Community Health Care Systems, as the consulting physician.
Campbell continues to encourage everyone to get flu vaccines, as H1N1 has been very active the last couple of months.
After Campbell's presentation the board switched back to their commission appointments.
Gary Stith, Assistant Planner with the Flint Hills Regional Council, brought an inter-local agreement before them.
This agreement will open up some funding options for regional transportation.
Stith is hoping to get all entities involved to sign the agreement by the end of the month.
Nathan Henry, Wildlife and Parks Manger also made a request for some assistance.
Henry told the commission his department was had their seasonal help taken away for the time being and he needs some help maintaining a portion of State Lake Road #2.
The reasoning behind this request is that residential units are along the road and Henry can't get out to maintain it to allow for decent travel due to the amount of work he has and lack of help.
The commission requested that Henry work with Leu Lowrey, Public Works Director, and John Watt, County Counselor, on an agreement and return with that for consideration.
After all of this was done, the board then went to revamping their positions, as Stan Hartwich became Commission Chair and Gary Yenzer Vice Chair.  Pat Weixelman now holds title of commissioner.  They also took care of the financial report, appointing the banks and savings, appointing the official newspaper, The Wamego Times, and a disposal of property.
Robert Reece, County Administrator, brought up the wage issue that has been going on for some time and the commission began to digest more information.
Weixelman made the request of knowing how much money can be put towards wages before actually tackling the numbers.  He does not feel their should be an across the board increase, but an examination of each department and each job needs to be done.
Both Weixelman and Hartwich expressed their view that this item does not need to be tackled quickly as more work needs to be done to make the appropriate changes.
The commission will not be meeting on January 20, but will return on the 27.