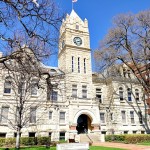 Two separate cases, involving one theft incident, were held in Riley County District Court Chief Judge, Meryl Wilson's courtroom Monday afternoon.
Ashley Newbrough (21) appeared first and made a plea of no contest to her charges, including obstruction with a law enforcement officer.
The alleged incident involves her husband Todd Newbrough (21) stealing a ring from a local jewelry store.  He reportedly asked Ashley to take the ring out of the house so police wouldn't find it.  Upon arrival, police found Ashley and asked her about the ring-to which she confessed that it was the stolen ring.
Judge Wilson accepted the plea of no contest, and found her guilty.  She will be sentenced on May 5th at 2:30 p.m.
Todd appeared in court next, alongside his attorney-Mellissa Rundus, for sentencing.
Rundus called her defendant to the stand, where Todd mentioned he was previously in the military and went through a deployment in Afghanistan.  He is also currently employed at a local landscape company, and has been seeking therapy on his own.
Ashley was called to the stand next.  She mentioned Todd had a short temper after deployment, but it has been much better since he has been getting treatment.
Prosecuting State Attorney, Barry Disney asked Ashley questions about an incident where her and her husband pretended to have a baby in order to gain additional military benefits.
Todd was one of Sergeant Schembera's soldiers, and Schembera was present to take the stand as well.  He indicated that Todd caused "significant trust issues" within the group of soldiers and financial distress.
Judge Wilson sentenced Todd to 60 days in jail, and he will then be put on probation.  If probation does not work out for Todd, he will serve a total of 24 months in prison.
"I've given you your second and third chances with probation today, and I will not hesitate to send you to jail the next time", Wilson commented to Todd.