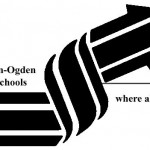 Update 3:30 p.m. Tuesday:
Ogden Elementary School has received the "all clear" order and has resumed normal function.
###
Riley County Police PIO Mat Droge indicates police arrived in Ogden for an isolated complaint of sexual assault between two people known to each other. No arrests have been made at this time. Droge says there is no evidence to support a direct threat to the children or school itself.
###
Ogden Elementary School is on lockout for an unknown situation, according to USD 383 Director of Communications and School Safety, Michele Jones. Jones confirmed shortly after 2 p.m. the school district was advised by Riley County Police to go into a lockout status, although she stresses she does not know what is going on from the RCPD side.
RCPD PIO Mat Droge indicated only that he was still getting information.
Unconfirmed reports indicate a suspect is being sought, possibly armed with a knife. But again, that has not been confirmed.