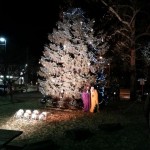 On Friday evening the Manhattan Mayor's Christmas Spirit of the Holidays Parade was held with a special lighting of the Christmas tree at Triangle Park.
The parade started on Poyntz Avenue and wrapped around to end at Triangle Park for the final tree lighting ceremony.  This year the city commission rode on a heavily decorated fire engine, and were festooned with lights themselves to demonstrate their holiday cheer.  Commissioner Wynn Butler was the driving force behind the lighting of the commission themselves, and worked closely with the fire department to decorate the firetruck.
Ambrosia Franklin, a Kansas State University student, said the parade was "fantastic, and especially seeing everyone out spreading the holiday cheer!"
Kansas State Graduate student Imani Thanji is from Kenya and said the parade "really was very pretty, and fun even if it was very cold."
Folks from all around the community braved those cold temperatures to make it out, and watch the festival.  The tree at Triangle Park will remain lit for the holiday season.