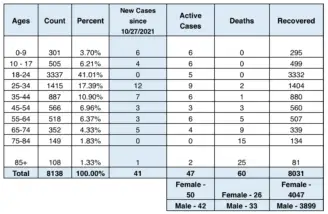 Riley County has reported one additional coronavirus-related death in its weekly report.
A 67-year old vaccinated woman tested positive on October 18 and passed away on November 2 at Ascension Via Christi hospital. The total number of COVID-related deaths in the county is now at 60.
In addition, 41 new positive cases were identified as well as 85 additional recoveries since the last report on October 27.
Four COVID-positive patients remain under care at Ascension Via Christi Hospital. Two patients are in the Intensive Care Unit, one whom is fully vaccinated. The other two patients, whom are unvaccinated, are on the medical floor.
The weekly percent positive rate for the week of October 24 through October 30 dropped 1.2% from the week prior. Thirty-seven positive cases were reported from 1154 tests conducted, a 3.2% positive rate.
Since reporting began in March 2020, Riley County has recorded roughly 8,100 positive cases.
Riley County Health Department is currently providing booster doses of the vaccine. Those who are eligible must have received the 2 dose series of Moderna or Pfizer more than six months ago, or the Johnson and Johnson vaccine more than two months ago.
Clinics will be held at the Riley County Family and Child Resource Center on Friday (November 5) and Monday (November 8) from 10AM to 3PM.
Rapid and saliva testing remains readily available. Testing is offered through KDHE Monday through Friday at the Manhattan Town Center parking lot from 8-5PM. The Health Department will also continue to offer rapid testing for symptomatic individuals. To schedule an appointment call 785-565-6560.