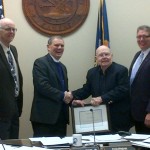 Dave Schoneweis was recognized for his 17 years of service on the county park board during Monday's Riley County Commission meeting.
Commission Chair, Robert Boyd thanked Schoneweis for his service, and presented him with a framed certificate.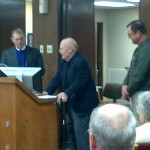 Schoneweis took the time to share how he got started on the board, and mentioned he is proud of the board's achievements over the years.
—————-
Since the snow has not yet disappeared, and isn't expected to for awhile, Public Works Director, Leon Hobson shared the snow removal process with the commission.
During the most recent snow storm, where 11.2 inches fell in a 24 hour period, crews were out till midnight on Tuesday, and returned as early as four o'clock the next morning.
Hobson mentioned weather conditions often alter the plans and the routes. If visibility is bad, it is not safe for crews to continue clearing roads.
This storm in particular cost the county $78,000.