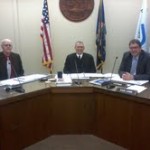 In March, the Riley County Commission approved having the Parks Manager and Operations Fleet Manager positions classified with separation of duties, as they were approved for hiring in November of 2012. The parks manager position was classified as grade "T", and the operations fleet manager as grade "V". The hiring sheet to begin advertisement for the fleet manager position was signed during the business meeting, but a recommendation was made for the parks manager.
Public Works Director, Leon Hobson submitted a recommendation, to the commission, to promote current Parks Supervisor, Greg Lund to the parks manager position. Hobson also proposed a recommendation to have Lund's pay be upped to a grade 8 level.
Each step is a 3% jump in pay. Grade 6 would have been the minimal suggestion for pay, according to Human Resource Manager, Cindy Volanti. The grade 6 rate of pay is $31.42, grade 7-$32.37, and grade 8-$33.32.
Commission Chair, Dave Lewis said, "considering he has basically served in that capacity for the past few months, I'm comfortable with step 8".
The commission unanimously approved Hobson's recommendation to promote Lund to parks manager, at the grade 8 level of pay.
————–
County Planner, Bob Isaac presented a plat and rezoning request for Drew Brokenicky's property. The request involved enlarging Brokenicky's lot (lot 2) while decreasing lot 1.
The commission approved the request.
————–
As requested by the commission during a previous meeting, Pawnee Mental Health Services Director, Robbin Cole returned with a history of Pawnee's funding.
Cole shared the vast amounts of cuts the company has faced over the years. She also provided a list of ways the services, and employees, have been impacted by cuts to state grant support.
Some of those included- eliminating sick leave and vacation leave for employees working less than 30 hours/week, reduced it's staff from 320 to 240, has given no merit based raises to its staff since July 1, 2004, closed it's Regional Prevention Center in Salina and closed a residential house in Manhattan for adults with a severe and persistent mental illness.