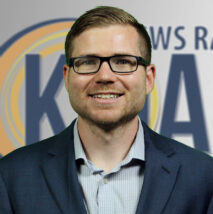 John Kurtz has served as KMAN's Sports Director since 2013.
YouTube has featured Kurtz as a "Creator on the Rise" for his rapidly growing following (11,000+ subscriptions) that has increased by over 500% in the last year. You'll find daily Big 12 content on his channel, including bi-weekly live chats.
He is the host of "The Game," heard from 4:00 to 6:00 daily, and "Powercat Gameday," the Kansas State football and basketball pregame show heard on six stations throughout the state. He is also a radio play-by-play voice of Kansas State baseball and TV play-by-play broadcaster on ESPN+ for various Kansas State women's basketball, baseball, soccer, and volleyball broadcasts.
Kurtz is a two-time recipient of the Oscar Stauffer Award for best high school play-by-play in the state of Kansas. He has also been honored with multiple awards from the Kansas Association of Broadcasters annually, including best medium-market sportscast, play-by-play, entertainment program, and editorial since he began his current role.
Growing up in nearby Overland Park, Kurtz's cultivated a passion for K-State football by spending his fall Saturdays in Manhattan attending home games. His father and uncle are K-State graduates, and his grandfather was a professor in Manhattan for over 30 years.
Kurtz graduated from K-State in 2011 with a bachelor's degree in Journalism and began his career at Manhattan Broadcasting immediately after.
You can find more of Kurtz's content on Twitter and YouTube.