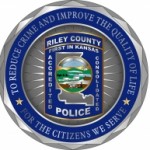 A domestic incident involving a knife was reported to Riley County Police late Tuesday evening.
Riley County police reported Wednesday, that a domestic aggravated battery incident tok place around 11:15 p.m. Tuesday in the south central portion of Manhattan.
A 44 year old male reported he received injuries from his spouse to his neck.  Crystal Leos-Bise (24)  was arrested at her home for injuring her spouse with a knife.
Leos-Bise is currently confined and her bond is set at $3,500.
——–
KMAN has been updating you daily on the incidents of vehicle vandalism occurring throughout Manhattan.  It appears someone is using a BB or pellet gun to shoot out back windows and drivers side windows of vehicles.
Four more reports came in Wednesday of vehicles damaged:  a car in Cico Park, a van on the 1600 block of Cedar Crest, a truck on the 900 block of N. 4th street, and a car on the 1900 block of Kenmar Drive.
This brings the total number of incidents to 36, and police are continuing to investigate this string of crimes.
——–
A homeless man reported he had money taken from him on Tuesday.
Between 5:30 a.m. and 4:00 p.m., Ernest Antolik (44), who is homeless, reported $2,000 of US Currency was taken from his hotel room at the Motel 6 on Tuttle Creek Boulevard.
Police are still investigating at this time.
——–
A Maple Hill man faced a hefty fine after being arrested for two different warrants.
Adam Simmons (38) was arrested around midnight on Tuesday for two Shawnee County warrants.
The first charge was for possession of depressants, and the second charge was for possession of drug paraphenilia.
Both warrants were $10,000 each, leaving Simmons confined on a $20,000 bond.
——–
Two failure to appear charges end in an arrest.
Kenith Robinson (25) of Manhattan was arrested around 5:00 p.m. Tuesday evening for two Geary County warrants.
Both were failure to appears, one originally being for possession of marijuana.
Robinson's bond was set at $10,000.