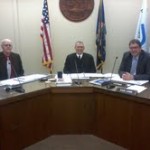 August 19th, Community Corrections Director, Shelly Williams was made aware of the fact that the Secretary of Corrections is planning to give one to two million dollars to benefit behavioral services.  Williams, and her staff, managed to send in a proposal for a portion or the funding, which would go toward a care coordinator position at the department.
During Thursday's Riley County Commission meeting, Williams explained the position, which would not only benefit corrections.  The care coordinator would be assigned to "high need" patients that receive treatment from both corrections and Pawnee Mental Health Services.
Williams said she should receive word by September 27th whether they will receive the funds or not.  The commission requested she return with a commission agenda report, during a later meeting, regarding this topic.
One of the two male correction employees will be on medical leave for four-six weeks.  Williams commented the need to fill this position, temporarily, is also quite high.
Males are required to perform a lot of the drug testing, and according to Williams, the work is too great for one person to carry out.
The commission also asked that Williams return with this topic at a later date, in order to approve it.
———————
County Appraiser, Greg McHenry gave an office report during the meeting, as the department has completed six out of nine small claims hearings for real estate parcels.
The county's value was upheld in the six hearings that have been held.  The last three small claims hearings are scheduled for September 9th.
McHenry added, there have been 856 sales in 2013 so far, and the median sale price for homes is $165,000.  The average sale price for homes is $181,021.
———————
County Counselor, Clancy Holeman provided information on House Bill 2413, which addresses tax appeals.  The fact that the State Chamber of Commerce is supporting the bill, Holeman said is concerning.
It is premature at this time for a letter of opposition, but Holeman said it could be a possibility in the future.