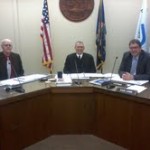 Licensing fees for Riley County childcare providers appear to be rather low, when comparing them to surrounding counties.
Riley County Health Department Child Care Licensing Surveyor, Breva Spencer shared the results from her research during Thursday's county commission meeting.  The $35 fee was the lowest out of all the counties she researched, which included- Douglas, Pottawatomie, Wyandotte, and Sedgwick.
Around 129 child care providers are located within Riley County.  Spencer also took the time to express the high need for infant care.  Many local providers do not provide care for infants, as this lessens the amount of children they can care for.
The commission did not implement any changes, but rather asked that Spencer return at a later date with more comparisons.  Saline and Leavenworth counties were suggested as better comparable counties, since they are very similar to Riley.
Child care provider input was also requested regarding both the license fee issue and the infant care issue.
County Counselor, Clancy Holeman will also assist in the matter, before returning it to the commission.
————————-
Several county officials gave routine updates, including:  Community Corrections Director, Shelly Williams, Noxious Weed Director, Dennis Peterson, County Appraiser, Greg McHenry, and Planning/Special Projects Director, Monty Wedel.
Many of the presenters thanked the county for the snow days, and raved about the county crews's efforts in clearing the roads.