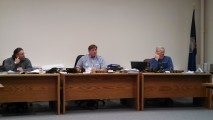 A couple of requests were slated for Monday's Pottawatomie County Commission meeting.
The first request was for a re-plat, which the commission approved unanimously. The second request was for a second entrance by a Pottawatomie County resident. After some discussion, the commission denied the request, but approved to have the existing entrance widened.
The commission also heard from Bob Cole, Director of the Pottawatomie County Economic Development Corporation. Cole talked about the search for his replacement and how they have gone from a pool of 17 to 10. They are hoping to have it narrowed down to three or four shortly. Cole also told the commission they have about 70 contributors for the Advance Pottawatomie.
David Adams, EMS Director, also came with an update on the ambulance stations and how they are being spotlighted by other communities for the work that was put in to updating them.
Pottawatomie County is also gearing up for this year's Kansas Sampler, which will be May 3rd and 4th in Wamego.