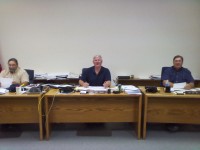 A new baler was on the agenda for Monday's Pottawatomie County Commission meeting.
Tim Eisenbarth, County Noxious Weed Director, brought forth the request during the meeting.
Eisenbarth explained some of the advantages of this new baler compared to the one they currently lease is it would reduce labor of personnel by being able to do more.
Eisenbarth added they could also bale more than just paper, cardboard and plastics.
Some of the issues that were raised during the discussion included the ability for proper electrical connections and also shelter for the new piece of equipment.
Pat Weixelman, Commission Chair, also brought up whether the baler could be moved to the landfill and be of use there.
No action was taken at this time.
Other department updates included the building permits for November.  There were 18 total with revenue of $3,259,297.
Leslie Campbell, Health director, brought before the commission her opened position and the trouble she has been having in filling it.  There was talk about pay being an issue, but nothing was decided.
The commission will meet again Monday, December 9.