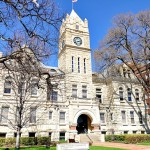 Two of the Manhattan residents, charged with the first degree murder of  John Burroughs (68), appeared in court via webcam Tuesday afternoon.
Both individuals are currently being held in Riley County Jail on one million dollar bonds, after the two were arrested for the September 8th alleged murder.
James McKenith (33) was represented by Attorney, Richard Lake of Holton.  Lake requested that McKenith's case be set for preliminary hearing in late November.
Judge William Malcolm set the prelim date for November 22nd, from 1-5 that afternoon.
Christina Love's (49) representation asked that her preliminary hearing be set for the same day, so they could hear the case and have witnesses testify for both people at one time.
Judge Malcolm set her trial for the same date, as requested, and said he may look into utilizing a larger courtroom, since his room is quite small.
Burroughs was found dead in his residence on Farm Bureau Road the afternoon of September eighth. Riley County police never provided details regarding his cause of death.
Love and McKenith were arrested three days later. Also facing charges in connection with the Burroughs' case is Anthony Nichols, 33, of Kansas City, who faces similar charges in Geary County in the September seventh murder of Anthony Nixon in Junction City.