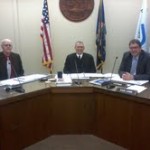 Olsson and Associates have prepared preliminary designs for the McDowell Creek road construction project, which has yet to be approved by Riley County Commissioners.
Olsson and Associates Representative, Mark Bachamp was present at Monday's commission meeting to share some changes recently made, such as cost estimates and speed limits.  Further additions and options could be discussed in the future, if the project is approved, including bike lanes.  The cost to add those bike lanes would be up around $200,000 according to Bachamp.
The project has been split into three segments, one of which involves the stretch of road in front of Shilling Construction.  Mike Shilling, of Shilling Construction, shared his concerns during the meeting.
Shilling stated, "our main concern is to keep our business open during this project.  To get our product out the door, we need two way traffic.  During construction, this could essentially shut us down."  Although Shilling was deeply concerned for his business's sake, he did say he understood the road needs to be raised so it is over the flood plain.
"I don't get a sense of urgency.  Why do we need to get this project done now?", asked Boyd.  He also commented, the road had a couple years of life in it.
Bachamp agreed with this statement, but said it's important to plan ahead.
The commission came to a consensus to move forward with the design presented, involving the 50 year flood plain and excluding additional footage for bike lanes.
——————–
18 4-Hers and four adults attended the 2013 Citizenship Washington Focus Trip to Washington D.C. this summer.  Now that the group has returned, they shared with the commission what they learned and where they visited.
Many of the trip goers said they enjoyed the Pentagon Memorial and the Holocaust Museum the best.
Two 4-H families were also at the meeting to share their experiences with being Japanese 4-H exchange families.  Riley County Extension Agriculture Agent, Greg McClure and his three children-Samantha, Morgan and Ryan shared their experience with hosting Ioka, who is from Tokyo.  The Staten family also played host to a Japenese exchange child, named Yo Hay.