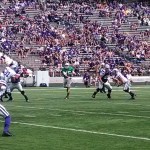 Charles Jones rushed for 77 yards on 20 carries while Jake Waters added a rushing touchdown as the Purple defeated the White 23-13 in the annual Kansas State Spring Football Game before 17,395 Saturday afternoon at Bill Snyder Family Stadium.
The Purple got on the board first in a low scoring first half on a 14-yard run by Glenn Gronkowski which made the score 7-0. The lead was 7-3 at halftime after Matthew McCrane put the White team on the board with a 42-yard Field Goal. Unlike past years, Head Coach Bill Snyder did not flip the score at halftime which benefitted the Purple squad as they extended their lead to 14-3 on Waters' 10-yard scamper in the third quarter.
Most of the scoring took place in the fourth quarter as Jack Cantele booted a 27-yard Field Goal to make the score 17-3 before the White team pulled closer on what proved to be the biggest Offensive play of the day when backup Quarterback Joe Hubener threw a 51-yard touchdown pass to Judah Jones making the score 17-10. After Ian Patterson who saw significant playing time in the final three games last season got the White to within 17-13 with a 46-yard Field Goal into a stiff southerly breeze, the Purple ran out the clock and scored on the game's final play when Defensive End Laton Dowling pushed into the end zone from one yard out, no extra point was attempted providing the final margin of 23-13.
Waters along with the rest of the Purple Offense was described as inconsistent after the game by Snyder as he completed 26 passes on 38 attempts for 227 yards with one interception. Hubener was 11 of 16 for 124 yards while Jesse Ertz completed nine of 13 pass attempts but was sacked four times. Curry Sexton was the game's leading receiver with eight catches for 88 yards as Tyler Lockett was held out of the game for precautionary reasons.
The game featured a special moment in the third quarter when eight-year old Kaiden Schroeder who is a cancer patient entered the game and with Waters handing off to him he scored on a 30-yard touchdown run. Upon reaching the end zone, young Kaiden was mobbed by the entire Kansas State team and was given a loud ovation by the fans.
K-State, coming off an 8-5 record in 2013 and a victory over Michigan in the Buffalo Wild Wings Bowl will kick off the 2014 campaign on August 30 at Bill Snyder Family Stadium against Stephen F. Austin.
Stay connected to all things KSU on the go just text EMAW to 88474
For full video wrap-ups, including analysis, highlights, coaches & player interviews of K-State Football & Basketball check out PowerCatGameday.com