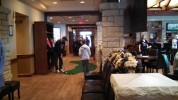 Though the landscape was still snow covered out at Colbert Hills Golf Course, that didn't put a stop to some indoor golfing.
Within the clubhouse, a 9-hole course was set up for families to enjoy, along with a breakfast buffet.
Chad Meyers, Head Golf Professional at Colbert Hills, explained this event will help benefit the First Tee.
"We just want people to get out and see our facility and also help out the First Tee of Manhattan," Meyers said.  "Some of the proceeds from today are going to go to the First Tee of Manhattan."
Susan Lowman, with The First Tee program and teacher at Northview Elementary, mentioned they've had a long standing partnership with Colbert Hills.
"Colbert Hills has been a partner with the First Tee program for like I said this will be our 15th year," Lowman said.  "And the golf pros here help us out during the summer."
This event was an effort to bring in people to show that the facility is not a private facility and that anyone can go out.
Colbert Hills is located at 5200 Colbert Hills Drive off of Grand Mere Drive.
For more information about the golf course, visit colberthill.com.