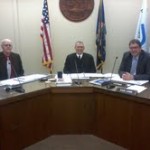 No major decisions have been confirmed regarding the possible future location of the fieldhouse project, but a few Riley County parks have been looked at as viable options.  Before anything is decided, Public Works Director, Leon Hobson has a few questions he would like answered.
Hobson shared his concerns during Monday's Riley County Commission meeting.  He mentioned if children just want to utilize the parks for a quick game of baseball, will they have to pay to do so?
When the fieldhouse committee last visited the commission, they indicated one option of putting different sports in different parks.  This topic raised concern about the diversity of the parks.  Hobson said if children live near a certain park, they may want to walk to the park to play a certain sport in particular.
Other concerns included parking, and proximity of existing park amenities.
Although Hobson shared a number of concerns and questions, he stated he is not against the project.  He mentioned he supports the project, but wants his questions answered before moving forward.
—————–
The board of Riley County Commissioners will not be in session on Thursday, as they will be in Topeka to provide insight on Senate Bill 298.  This is the bill that proposed the elimination of the mortgage registration fee.