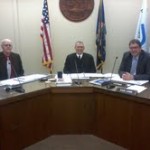 Previously, two companies submitted bids for new emergency service radios.  Riley County Commissioners approved the bids to move forward for staff evaluation and recommendation.
After the bid opening, there appeared to be some concern with emails regarding the bids and what the county really needed.  The vendors did not seem to agree on what they thought the county was looking for in radios.
Both vendors revisited the commission at a later date to express their concerns.  The commission asked that the vendors come back so that they would have more time to discuss the matter.
For that reason, the 'Fire District portable  radios bids' agenda item was discussed during Thursday's county commission meeting.  Both vendors (Motorola and K.A. Comm) had the opportunity to share the reasoning behind their bids.
The commission thanked the several people that attended, and the issue seemed to be resolved.
—————–
Fieldhouse Project Chair, Gail Urban provided another update on how the project is going.  Now that studies have been completed, she shared more accurate numbers regarding the specifics of the project.
Urban also presented an overview of which sporting areas would be featured in which parks.  Some field removal and additions would be required for the plan, and the main indoor fieldhouse facility would be projected to be located in Cico Park.
The entire project is estimated at $54 million.
Urban asked the commission to consider their previously requested donation of $10,000, as well as a few other financial options.
The commission had questions for Urban, but ran out of time to ask them.  Urban will return in a couple weeks to address those concerns and questions.
—————–
The rest of the meeting involved routine updates and monthly reports from various department heads.