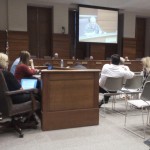 In about a 10 minute meeting, Riley County Law Board members Monday gave their official okay to the 2014 Riley Couny Police Department budget. While it has been approved for publication, this was the actual approval.
Riley county police director Brad Schoen told the group this is early for such action. But Schoen added he saw nothing wrong with giving approval if board members felt ready..
The six members present unanimously approved the measure. John Matta was the only law board member not present for the vote.
A public hearing brought no comments…
The budget includes scheduled merit increases, a 1.5 percent cost of living adjustment and the addition of one new custodian position.The option represents a slight decrease from the 2013 approved budget when the 2012 carrover is applied.