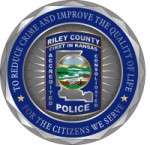 The Riley County Police have switched over to their emergency traffic accident response and reporting as of about 1:30 pm on Sunday due to current weather conditions.
Motorists will need to file an accident report for any event during this period of time at the Law Enforcement Center located at 1001 S Seth Child. Motorists are encouraged to coordinate with each other.
If possible, bring the vehicles involved in the incident with you.