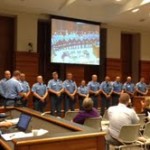 Nearly a dozen Riley County police officers were recognized at Monday's law board meeting, in connection with response to a fatal shooting incident at 900 Gardenway April seventh.
Meritorious service, commendation, and distinguished service awards were presented, with RCPD Director Brad Schoen praising those recognized. Schoen added this is what the officers are trained to do. The group received a standing ovation from the audience at the law board meeting.
Electronic enforcement will no longer be considered as one of the objectives for the coming year for the Riley County Police department, following discussion at Monday's Riley County Law Board meeting. The vote was five to one, with board member Wynn Butler still expressing interest in studying such methods.
Board member Barry Wilkerson, who also serves as Riley County Attorney, had concerns about state law and issuing tickets to owners of vehicles observed doing something wrong, which he says is against state law. Board Chair John Matta had placed the item on the agenda, indicating he did not support pursuing the objective at this time.
The Riley County Police department's annual audit by Reese & Novelly had a good review Monday, with CPA Carol McCullough presenting at the Riley County Law Board meeting Monday. She says there were no problems with the audit, with everyone being very cooperative. She added everyone is atturned to listening and wanting to know ways to improve on controls and the ways of doing things, which she says "is kind of a joy." McCullough also said there had been no significant deficiencies or material weaknesses.
Riley County Police do not use the "GAAP" system of accounting, which stands for generally accepted accounting principles, with RCPD's method of financial statements and reports not reportedly relevant to the requirements of the cash basis and budget laws of the state.