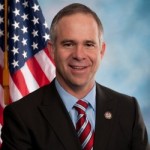 The U.S. House of Representatives Wednesday voted to approve the conference report for the 2014 Farm and Food Stamp Bill. Following the vote, Rep. Huelskamp (KS-01) released the following statement:
As a fifth generation farmer myself, I understand how important it is to have certainty as you plan for the future. But there are simply too many problems with this bill to allow me to support it. It continues to allow urban food stamp policy to drive agriculture policy. It does next to nothing to provide regulatory relief our farmers, ranchers, and small businesses so desperately need. It threatens to stifle the greatest area of growth in American agriculture–exports–by creating new programs that may fail to comply with WTO standards. And it does all of this at an enormous costs to the taxpayer.
From the beginning of this process, I have argued that we need to get the focus of the farm bill back to the farm. SNAP spending has nearly doubled in just five years, will cost more than $82 billion this year, and now consumes an unprecedented 80% of the Farm and Food Stamp bill. The program is in desperate need of reform, and yet this bill makes only nominal changes. Instead of status quo in this the fastest growing welfare program in the entire government, we should have taken the opportunity to provide meaningful work reform requirements, especially for able bodied adults, as we passed in the U.S. House.
In the more than 200 town halls I have held since taking office, the most consistent constituent complaint is the frustration with the over-regulations coming out of Washington. Whether it is the proposed listing of a new endangered species (despite still being able to hunt them in Kansas), redefining "waters of the United States" to include even the stock tanks found in many Kansas pastures and feed yards, or requiring duplicative permits for pesticide application, there is too much bureaucratic nonsense and not enough common sense. Yet this bill does next to nothing to relieve farmers and ranchers of the red tape that is choking their businesses, depressing our economy, and sending jobs overseas. We can and should have done better.
Much has been made of the elimination of direct payments in this bill. While I certainly support this change, the bill then creates two other programs that actually cost more than the one they are replacing. In addition to the cost concerns, neither of these appear to be WTO compliant. As a result, a bill that was intended to help open new markets for American products may end up closing off markets and limiting exports. Additionally, returning to target price policies first adopted in the 1930's and finally abandoned nearly 20 years ago encourages farmers to farm for the government not for the market place.
There are some good things in the bill. I believe the compromise dairy provisions are a positive step away from government control of milk markets. The crop insurance program has been strengthened, and is better equipped than ever before to assist producers in times of trouble. But these bright spots are not enough to warrant enacting this bill. We could have done so much better for farmers, ranchers, consumers, and for the American taxpayer.