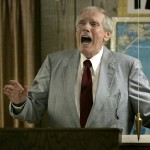 According to multiple reports a family member says the controversial and outspoken Reverend Fred Phelps the former head of the Westboro Baptist Church of Topeka has died at the age of 84. The reports say the family member who was not identified reported Phelps passed away sometime Wednesday night.
Phelps until recently was the head of Westboro which gained national attention for picketing at military funerals and funerals of AIDS victims who lost their battle with the disease and usually brought signs with anti-gay and anti-military slogans.
Earlier this week reports surfaced from Phelps' estranged son Nathan that the elder Phelps had been excommunicated from the church late last year by three of his other children.