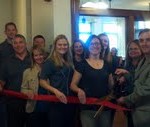 It was a day of celebration for Capstone 3-d and other businesses located in the newly restored building at the corner of Fourth and Poyntz Avenue. The building was originally constructed in 1890, but a major renovation  has opened the building up to not only Captstone 3-D development offices, but also government services, Fresh Hair Style and Barbershop, and Wells Fargo Advisors.
John Pagen, who seves as Vice President for Economic Development with the Manhattan Area Chamber of Commerce, had some other good news to share with the large crowd assembled for Thursday's ribbon cutting ceremony, saying this will be the first year Manhattan has reached the billion dollar mark for retail sales. Pagen says this renovation is a part of this and signals more growth in Manhattan.
Kail Katzenmeier of Capstone 3-d Development admits the project took a while, admitting it was not a short or easy process to revamp the downtown building.
Manhattan Mayor Loren Pepperd also offered some comments at the event, thanking Capstone for its efforts in the restoration project.