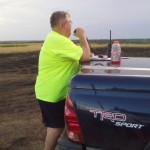 At least one area of damage in Riley County was pretty significant, according to an update from Riley County Emergency Management Director Pat Collins. After an interview with KMAN Monday morning, Collins had a chance to check damage and indicates damage at 11985 Falcon road from Saturday night looked like a possible tornado. Collins estimates the loss at $200,000 . 
Collins told KMAN Wednesday the storm damage from Leonardville to Randolph overnight Saturday may more definitely have been the result of a small tornado. Pictures Collins sent to the National Weather Service office in Topeka (and posted here) led meteorologist Chad Omit to speculate a small tornado may have been involved.
 Meanwhile Clay County Sheriff Chuck Dunn tells KMAN he's had reports of 12 to 18 farmsteads impacted bt the Saturday night storm.
Manhattan authorities  report tree limb damage. Manhattan City Manager Ron Fehr says the east side of Manhattan was hardest hit, with the business park and McCall Pattern including rooftop units that became disengaged from the utility. Fehr also mentioned Manhattan Wrecker and sporadic power outages, including one at the water treatment plant.  The Ewing Road area also reportedly suffered extensive damage.
And the city manager says part of the city's capital improvement project is to upgrade some of the older sirens, especially as the city grows. There are also plans to replace the sirens with speakable sirens in flooding areas.
Wamego also reported tree limb issues and power problems this past weekend.