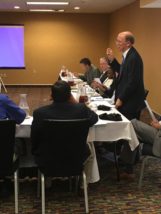 Delinquent tax payers will start to notice a big difference in the interest rates charged for late payments. Riley County Deputy Counselor Craig Cox addressed intergovernmental leaders Monday and mentioned the new rates of 10 percent or more, compared to the previous four percent. Governmental officials are hoping this will help collect delinquent taxes in more timely fashion–the new rates kicked in with this last tax sale case.
 Cox also briefed the group on the recent tax sale, with about $80,710 collected at auction with 13 winning bidders–but a grand total of $381,290.42 including the amount collected prior to the auction. ..
 The county is getting caught up too according to Cox and Commissioner Ron Wells, with collections tending to run four years behind the actual tax year–Cox describes the tax sale as a "statutory creature" as the law creates the tax foreclosure sale process.
The Riley County Police Department shooting range to be located at Fort Riley is finally official– that was announced by County Counselor Clancy Holeman, during Monday's intergovernmental meeting….
Holeman stresses it will still be a while before the range is used though with needed infrastructure and utuility improvements. Holeman indicates the Riley County Commission will be discussing the next step with staff–and what still needs to be done.Fort Riley officials are catching their breath after a full week of activity this past week–but Deputy Garrison Commander Tim Livsey tells KMAN he was pleased with the way Victory Week turned out.
Livsey adds the post is back to its 15,400 number, although things will be thinning out a bit in October with a brigade heading to Europe. Livsey also updated intergovernmental leaders during their meeting Monday on post developments.
For the second consecutive year, the Department of the Army and Installation Management Command will hold the "Housing the Force" training workshop at Fort Riley. Livsey adds the gathering helps in several ways, with dialogue and needed training. About 300 are in attendance.
Collaborative sessions include topics such as customer service, management procedures and policy, top challenges and updates, privatized Army lodging and the Defense Travel System, housing market analyses, budgeting, furnishings and documentation.
Also Monday, First Infantry Division Regional Liaison Traci Scott told the group she was leaving her position after eight years to join General Paul Funk at Ft. Hood in a similar position, working with legislators and developing partnerships with universities. She indicated it's "really hard to leave" and has "gone so fast."
The intergovernmental group includes representatives from Riley County, city of Manhattan, USD 383, K-State, Fort Riley, Manhattan Area Chamber of Commerce, and state and national legislators.