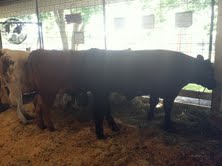 The Riley County Fair continues on for the rest of the weekend with a number of different activities.
Along with the carnival and rodeos, there will be Blue Valley Pork Producers BBQ, a Dog Agility Exhibition and an Apple Pie contest, just to name a few.
Throughout the weekend there will also be more judging of animals as handlers wait to see where they rank.
Claire Larkins, of Manhattan, was there Friday morning with her chickens as people came to look at the animals.
Not only are awards given to the animals, but within Pottorf Hall there was an array of artwork, crafts, vegetables and baked goods all displayed for show.
The Riley County Extension agents were also on hand to help out and the 4-H ambassadors were available for tours.
The fair will run until Sunday and for a complete list of activities visit, rileycountyfair.com