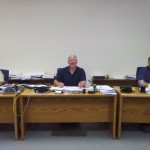 Pottawatomie County has a lot of public works projects going on, as Public Works Director Leu Lowery reported to county commissioners Monday. Commission Chair Stan Hartwich talks about one particular area that's been of concern safety-wise for a number of years. Documents were signed for Flush Road improvements, adding turn lanes westbound and accelaration lanes. A bridge crew replacement was also approved, to fill a resignation. And while the recent rain was welcome, Hartwich says blade crews will be out working on the roads as a result.
The Pottawatomie County Commission received its monthly update from Register of Deeds, Betty Jo Abitz, who says she discussed the recently completed Legislative Session, and how it will affect the County. Senate Bill 298 passed dealing with mortgage fees, and Abitz says that's bad news for the County.  She says Pottawatomie County could lose up to $350,000 in tax revenue per year.
Abitz also presented April numbers with 400 documents recorded, with $37,930 dollars collected. 95 mortgages were filed in the county, with 15 non-tax or mostly refinances.
County Fire Supervisor Bruce Brazzle was in and an agrerement with Larry Wilson Construction was signed for the ambulance station in Wamego.
The County Sanitarian also paid commissioners a visit, reporting the transfer station is 314 tons below last year at this time.
Commissioners also heard Health Director Leslie Campbell, who reported a case of pertussis, or whooping cough. 
Commissioners also heard from Larry Sharp regarding K-CAMP, which is the county's insurance carrier. Hartwich says Pottawatomie County was quite a bit lower lately on its payouts–which Hartwich described as "lucky."
 (part of this content was provided by KMAN's partner, the Wamego Smoke Signal)