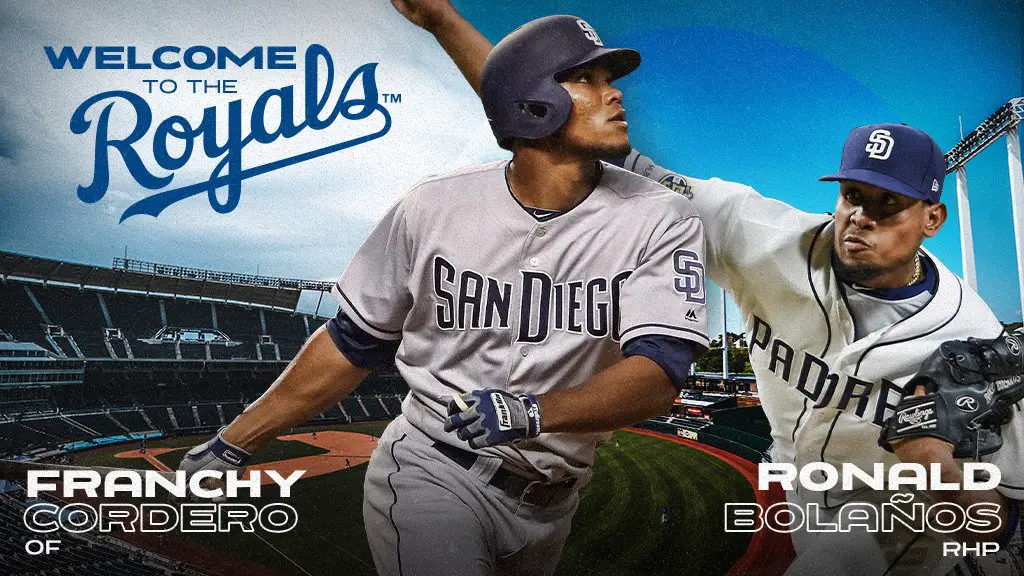 Image courtesy: Kansas City Royals
Opening Day for the Royals is one week away and in just three days they will start exhibition play against the Houston Astros, but they made a trade last night.
KC cut a deal with the San Diego Padres to send left handed relief pitcher Tim Hill out west and in return taking outfielder Franchy Cordero and RHP Ronald Bolanos.
Despite entering his third season in the big leagues, the submarine lefty Hill is already 30 years old with a career ERA just above 4.00. Last season he appeared in 46 games with a 3.63 ERA. In 5 Spring Training games prior to the shutdown, Hill had allowed 10 earned runs on 9 hits. He will try and carve out a late inning role with the Padres, or figure into the equation if a string of lefties come to the plate as MLB implements the 3 batter minimum rule this season.
As for what the Royals get, Franchy Cordero, a 25 year old outfielder is currently the headliner in the deal. Cordero swings from the left handed side of the plate and has big time power, as well as plus speed, Baseball Savant credits Cordero with better sprint speed than Whit Merrifield. Cordero's downside is that he has battled injuries since making his 2018 big league debut, playing less than 80 games the last 3 seasons combined. If healthy, Cordero factors into being an outfiedler for the future in KC.
As for Bolanos, he was a Top 15 prospect for the Padres and has appeared in 5 big league games with a 5.95 ERA and 19 K's in 19.2 IP. Bolanos can touch 100 with his fastball, but will sit in the mid 90s and includes a sinker/slider combo into his pitching mix. Dayton Moore says he projects as a starter or hard throwing reliver. Both were added to the 40 man roster, to make room, third basemen Kelvin Gutierrez was moved to the extended IL for 45 days.
The Royals will face the Astros at 7:05 on Monday on KMAN, for the first of three exhibition games before starting the regular season in Cleveland one week from today